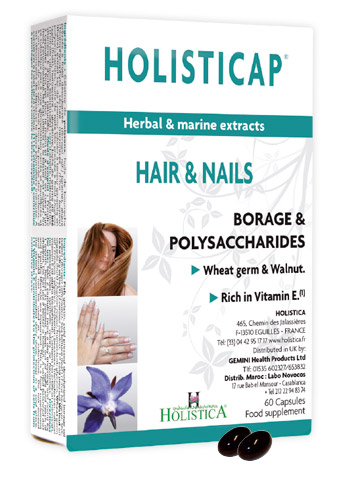 Food supplement
Boîte de 60 capsules
N° ACL 3401573316227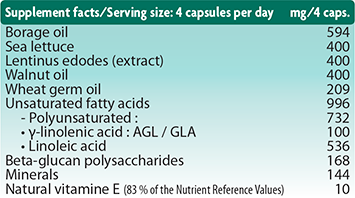 Holisticap
BEAUTY FOR NAIL AND HAIR
POLYSACCHARIDES & fatty acids Give volume and brightness to your hair
Makes your nails brighter
fatty acids balance Ω3 + Ω6, lentinus edodes extract, natural vitamin e, Seaweed nutrients
Holisticap provides a balanced supplement in essential fatty acids and phytonutrients, favoring hair growth, natural Vitamin E and marine polysaccharides. Sea fish gelatin capsule.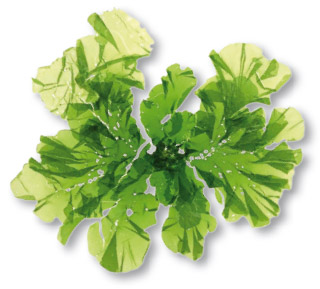 Ingredients
Fish gelatin, cold pressed deodorized borage oil (seed) (Borago officinalis), Sea lettuce (leaf) (Ulva lactuca), Shii-ta-ke (dry extract) (Lentinus edodes), 1rst cold pressed Walnut oil organic (fruit) (Juglans regia), humectant: glycerin, Wheat germ oil (Triticum vulgare), thickener: beeswax, maltodextrin, natural vitamin E (d-alpha tocopherol). Contains no artificial chemicals, no preservatives, synthetic colors or flavorings.
May contain traces of molluscs and crustaceans
Directions for use
Take 2 capsules twice a day (morning and noon) for 1 month. Repeat as needed. Keep out of sight and reach of children. Do not use if blister is broken. A varied balanced diet and healthy lifestyle are important. This is a food supplement and should not be used as a substitute. Do not exceed the stated recommended daily dose. Keep in a cool place.

For hair and nails, see also Oligophytum

Natural origin components

MICRONISED CHLOROPHYCOPHYTE SEAWEED
Actual nutritional cocktail, this green seaweed provides a diversified and balanced supplement of polysaccharides (38%) helping with the elaboration of glycoprotein, trace elements and minerals. The complementary aspect of these nutrients provides good nutrition for hair and good resistance for nails.

Borage oil
Polyunsaturated long chain fatty acids are essential for skin, hair and nail care. Any deficiency often turns into a decreasing radiance of the exoskeleton.

Lentinus edodes extract
Thanks to its guaranteed content in protective polysaccharides, the dry extract from Lentinus edodes, developed by Holistica, has a vivifying effect on the exoskeleton, encouraging its reinforcement.

WALNUT OIL - WHEAT GERM OIL
These oils are a source of unsaturated fatty acids which are complementary of those brought by the borage.

SOURCE DE VITAMINE E D'ORIGINE NATURELLE
This powerful antioxidant protects the cells against devastating attacks by free radicals. Its natural origin enables assimilation in a much better way by the body, compared to its synthetic equivalents. (3 caps a day: 10 mg = 83% of the Nutrient Reference Values for the expected beneficial effect of Vitamin E).


Lentinus edodes, walnut and seaweed are also a source of trace element Sulfur.
Holisticap fits both for women and men, and doesn't content synthetic amino-acid which could increase hairiness.
Related products